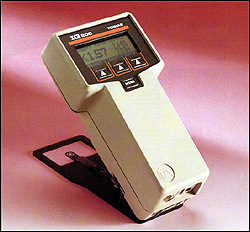 - Literature (PDF Format)
- Demo
The top-of-the-line IQ200 Densitometer, engineered with the latest in software technology, is so easy to use that an operator's manual isn't even needed! Yet, the IQ200 fulfills your press and pre-press quality control needs with precision. It quickly and easily computes all standard densitometric functions: from density and density difference to dot area and dot gain, as well as contrast, trap, hue error and grayness. The IQ200 Densitometer has proven itself an indispensable workhorse for printers. No other portable densitometer available today offers such versatility and convenience.
Available functions:

Density, Density Difference, Dot Area, Dot Gain, Trap, Contrast, Hue Error and Grayness.

Simultaneous display of all filter densities:

Shows the major filter value in large characters; the three minor values are shown smaller.

Plainly worded, self-guiding prompts:

.Simple directions appear on the display; no complicated operating instructions or training manuals to study.

Large, high-contrast display area:

Easy-to-read display can be viewed from virtually any angle.

Murray-Davies and Yule-Nielsen dot area calculations:

Switch between equations at the touch of a button.

Automatic turnoff:

Saves battery by shutting off after 90 seconds of non-use.

Several thousand readings per battery charge:

Also runs from the A.C. adapter/charger.

RS-232 output port:

Use with a printer for reports, or a computer for analysis or data storage. Selectable manual or automatic transfer.

Easy software calibration:

Eliminates trial-and-error screwdriver adjustments.

Optional Statistical Process Control (SPC) package:

D-Stat software for control and monitoring of printing process.

Available in French or Spanish:

Displays all user prompts in the selected language.